When applying for jobs, internships, and even some schools in the US, you will be required to submit a resume or CV. As the single most important document for job seekers, a resume can be difficult to perfect. That's why our team came up with the top tips to polish up your resume so you can land your dream job.
Contents
Formatting and heading
Resume layout and design
Although one of the more exciting parts of creating a resume, choosing a design or font is not the most essential part of the process. Do not spend hundreds of hours designing or picking a font unless you are a graphic designer and applying for a design-related position. Rather than investing your time on how aesthetically pleasing it looks, focus on the content of your resume.
For resume layouts or designs, refer to free templates online and choose a simple one that works for you. Choose a design that is not too busy or distracting, and do not use more than three colors. You want the hiring managers to concentrate on your achievements, not your design skills (unless you are a designer, of course). You can find free Microsoft Word or Google Docs resume templates online.
Likewise, do not spend hundreds of hours choosing a font. Pick one that is clean and easy to read. Popular fonts for resumes include Times New Roman, Arial, Georgia, Helvetica, Roboto, and Ubuntu. As for font sizes, your name at the top should be in the largest font (size 18 to 24), the rest of your heading the second (size 12 to 16), and the body of your resume the smallest (size 10 to 12). The standard line spacing is 1.0 or 1.15 for the body of your resume. Some younger job seekers at the start of their careers use a line spacing of 1.5 if the body of their resume does not fill up a page. Up to 1.5 line spacing is acceptable, but do not use double spacing or above. The standard margin size for resumes is one inch for all four sides. If your resume is getting lengthy, you can reduce the margins up to 0.5 of an inch. When applying for jobs in the US, be sure your resume is letter size (8.5 by 11 inches). In the UK, set your CV to A4 size.
Check out these two free Google Docs resume templates.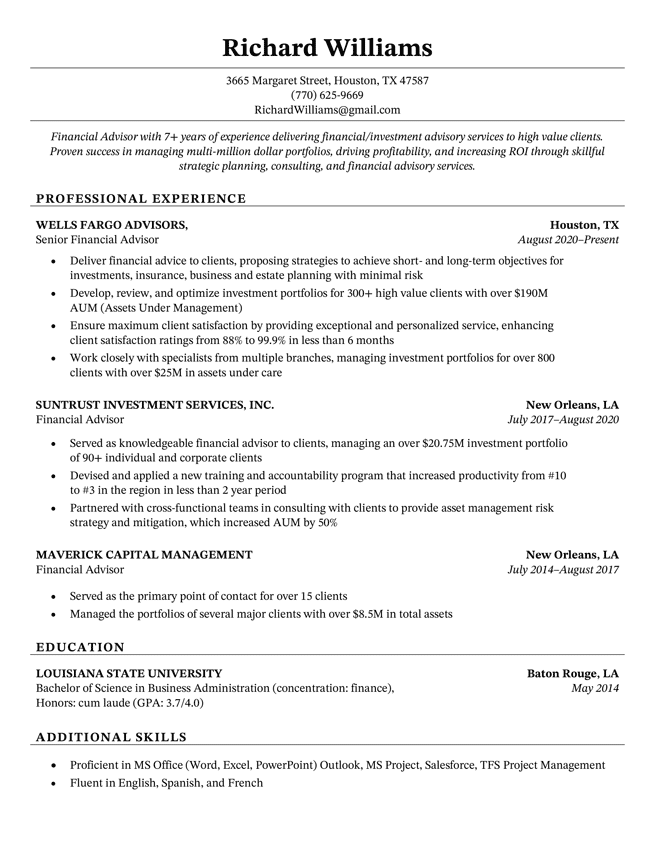 Above is the Chicago Google Docs Resume Template in a classic only black-and-white composition. You cannot go wrong with this traditional layout with its clear lines that create distinction between the different sections of the resume.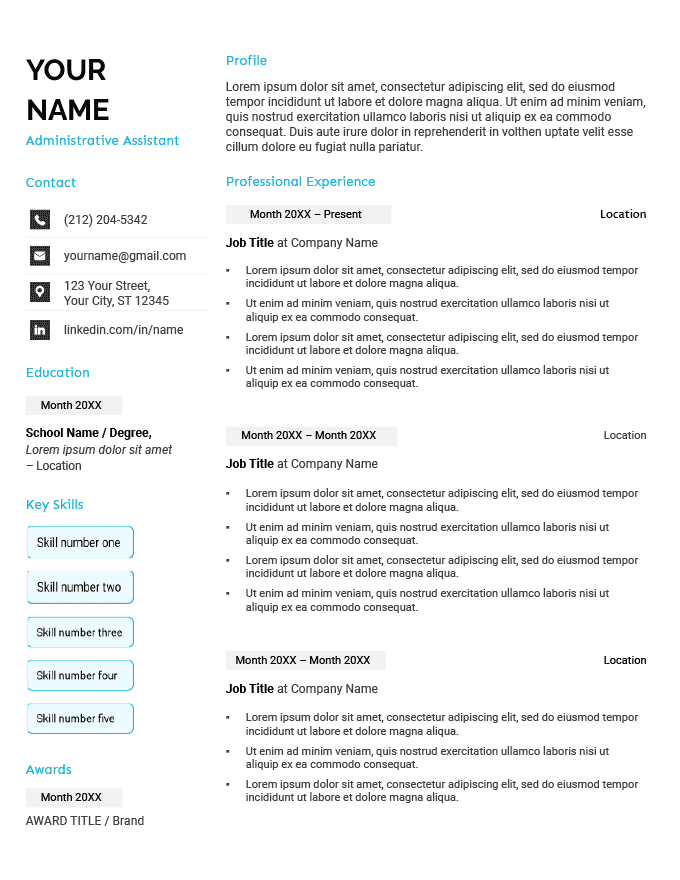 Unlike the previous resume design, the Google Docs template Cascade is a more modern arrangement with a two column setup and an accent color. All contact information is placed on the left column along with the educational background, skillset list, and awards.
Header
Your header should contain your name and contact information, which includes your phone number, email, and address. You may also include your title such as Certified Public Accountant or UI/UX Designer. Make sure your title is directly relevant to the position you are applying to if you are including it. If you are applying to be a criminal defense lawyer at a law firm, you might not want your heading to say Student Advisor for Studying Abroad. If you have an online portfolio, you may include the link at the end of your header.
Below are two example headers.
---
Jeff Austin
Software Engineer
000-000-0000
jeffconneraustin@gmail.com
00000 Zero Street, Austin, TX 00000-0000
---
Shelley Kirkland, CPA
(777) 777-7777
shelleymkirkland@gmail.com
77777 Seven Road, Boston, MA 77777
linkedin.com/in/shelleymkirkland/
---
Resume summary or introduction
Resume summaries have become increasingly popular over the past few years. If you have not mentioned your job title in your header, you can include it in your resume summary. State your top achievements that you want to boast about to the hiring manager and make sure your job title and achievements are relevant to the job you are applying for. You should tailor your resume summary to each job you apply for to make yourself the most attractive candidate for the role. You can also mention key skills that are also related to the job. Keep your resume summary short at around three or four sentences.
You may be wondering why you might need a resume summary when the same information can be found in the body of the resume. Hiring managers, who have to go through thousands of resumes a day, may spend only a few seconds on each resume. Having that resume summary allows you to display your top achievements and skills in a time-effective way so you can get on the top of the pile.
Another small point to note is that you would typically write out numbers less than ten in essays (one to nine), but in resumes, you should use the Arabic numerals (1 to 9) to help any numbers and quantities in your achievements stand out.
Below are some examples of resume summaries.
---
Jeff Austin
A software engineer who has led a team of 17 engineers to develop a game-changing accounting software that became the company's best-selling product in 18 months. Fluent in JavaScript, Python, HTML, CSS, and C++ with extensive experience in both front-end and back-end development. Increased time efficiency of project completion by 46% in 1 year of becoming senior software engineer at CompanyA Tech.
---
Shelley Kirkland
Certified public accountant with 4+ years of experience, advising individuals and businesses in their financial journeys with a 92% client retention rate. Adept in budget analysis, reducing the spending of a large corporation by $1.2 USD over 12 months. Detail-oriented with effective tax-saving strategies that helped a corporation save $140,000 in the 2020 fiscal year.
---
Levy O. Smith
Director of photography with 9 years of experience in cinematography and translating a vision to a screen. Worked with Director Randall Romano on Academy Award-winning documentary The Metascience of Metascience. Experienced in leading and training camera and lighting crews of various skill levels.
---
Body
The body of your resume consists of work experience, educational background, skills, certification, and awards. You may also include internships (both paid and unpaid) and other activities if necessary.
Job experience
Put the most standard information at the top line for each job which includes the job title, dates of employment, company name, and company location. See the example below.
---
Senior Software Engineer                                                       Jan 2018-Present
CompanyA Tech - Austin, TX
---
How you arrange this information in your resume design is up to you. Some like to put the dates on the left side in their own column while others like to place the date in a line below the company name and location.
Follow this with organized bullet points of your achievements and responsibilities at the job. A list of achievements and accomplishments is more valuable than one of just your responsibilities, so try to put down your achievements before your duties. Also, quantify your accomplishments if you can. For example, instead of writing "Led a team of software engineers," include numbers as so: "Led a team of 17 software engineers." Instead of writing "Completed projects faster," try a line like "Increased project completion speed by 46% in 1 year." The numbers give credibility to your achievements and help the hiring managers grasp the magnitude of the accomplishments.
At the start of each bullet point, use active verbs that are assertive and not vague. Instead of saying "Was the head of the marketing team," try "Led a marketing team of 14 marketers of different experience levels." The verb led expresses a stronger action than the more passive verb was. In the first rendering of the sentence, it seems as though you were passively present and just happened to be given the position of head of the marketing team. However, the second edit of the sentence with the verb led conveys that you actively guided, oversaw, and managed a team.
Here is a list of active verbs you can utilize in your resume or refer to in order to get an idea of what active verbs look like.
Administered
Advanced
Coached
Coordinated
Delegated
Delivered
Developed
Devised
Directed
Ensured
Established
Expanded
Formulated
Implemented
Operated
Oversaw
Secured
Showcased
Tracked
Trained
Transformed
Another important protocol is to not use first-person pronouns as the subject of your sentences. As mentioned previously, write numbers in their numerical form and not written out, and minimize the use of articles (a, an, the).
First-person pronouns: I implemented a new budget plan that reduced the company's annual spending by 14%.
Active verb: Implemented new budget plan that reduced company annual spending by 14%.
Notice that in the first example sentence above, the sentence starts off with the first-person pronoun I, and includes the article a in front of "new budget plan" and the in front of "company's annual spending."
The second example sentence, however, cuts out all the unnecessary words that were included in the first sentence. The second sentence not only sounds more assertive and direct but also delivers the same information in a succinct manner.
Opt for active voice instead of passive voice in resumes. Active voice sounds more confident and assertive which gives a stronger impression on hiring managers than resumes showered in passive voice.
Passive voice: An increase of 14% in company revenue was achieved in 2021.
Active voice: Increased company annual revenue by 14% in 2021.
In the sentence in passive voice, it is actually not clear who aided in the increase of annual revenue. To the hiring manager reading your resume, it may just seem like you are stating the fact that the company had an increase in revenue during the time of your employment. The sentence does not directly convey that you were the individual or one of the individuals that helped achieve this significant increase in revenue.
The second sentence in active voice, however, communicates that the protagonist of the resume is the person who increased the company's annual revenue by 14%. Active voice is more dynamic and shows that you are a go-getter rather than a passive employee.
Maintain around three to six bullet points per job on your resume. Below your work experience, you can also include relevant internship experience or other related activities. Note that you do not have to list every single job you have had on your resume. Only include the jobs that are relevant to the one you are applying which means you should tailor your resume to each job. Although this may seem time-consuming to adjust your resume for each job you apply for, you will quickly get the hang of it, so do not forget to skip this step.
Educational background
Most job seekers put their educational background at the end of their resume. Some fresh graduates or job applicants looking for academic jobs put their educational background along with their major GPA at the beginning of their resume. People who are not fresh graduates also put their GPA if it is over 3.5.
List your most recent degree or the degree in progress first. So if you have a master's degree, list that first before your bachelor's degree. If you did not attend college, put your high school degree. Even if you did not finish high school, put down the name of the high school you attended. If you attended or are in the process of attending college, do not list your high school.
Some job applicants prefer to put the name of the school before the degree name, while others prefer vice versa. How you arrange and format this information is up to you. Be sure to include majors, minors, and the dates you attended the school. You may also put down the location of the school and include both the school and university name. Below we have a couple examples of how to put your educational background on your resume.
---
International Studies, B.A.
French, Minor
University of California, Irvine
2016-2020
GPA: 3.54, Cum laude
---
Dartmouth University, Hanover, NH
 Tuck School of Business, MBA
 Expected to graduate: Jun 2024
 GPA: 3.52 (in progress)
---
Boston College, Newton, MA
 Carroll School of Management, Finance, B.S.
 2018-2022
 GPA: 3.89
---
Skills
Your list of relevant skills goes at the end of your resume right before your certifications and awards if applicable. Hard skills can include technical or language skills. If you are a programmer, you would probably want to include the coding languages and operating systems you are proficient in. If you are a video editor, include the editing software you are experienced with, and for an accountant, include programs such as Microsoft Excel and other commonly used software which are you skilled at.
You may also list some soft skills below your hard skills. Soft skills can include communication, time management, and attention to detail. List any other relevant skills to the job, and it can also be helpful to write what proficiency level you are at with the skill. This is especially useful when listing your language skills. However, if you only speak English and your resume is in English, there is no need to put a language section.
Below are some examples of lists of skills for three different types of occupations.
---
A developer's skill section:
Technical Skills
 Expertise in Python
 Entensive experience in JavaScript, HTML, CSS, C++, Ruby
 OS: Microsoft Windows, macOS, Linux/Unix
Soft Skills
 Troubleshooting Analytical thinking skills Adaptability
Languages
 English (native), Spanish (intermediate)
---
An executive assistant's skill section:
Skills
Microsoft Suite: Word, Excel, PowerPoint
Software: Zoom, Slack, Notion, Google Workspace, Dropbox
Organization and prioritization, scheduling, time management, communication
---
A digital marketer's skill section:
Skills
Instagram, TikTok, YouTube, Twitter, Facebook, Pinterest, Weibo, WhatsApp
Google Ads and Analytics, Facebook Ads (includes Instagram), TikTok Ads, YouTube Advertising, WhatsApp Ads
Google Workspace: Sheets, Gmail, Calendar, Drive, Docs, Meet, Slides
Other: Prezi, Mailchimp, Zoho, Trello, Slack
SEO, data analytics, email marketing, conversion rate optimization
Languages
Fluent: English, Mandarin Chinese
Proficient: French
Conversational: Korean
---
Certifications and awards
When including certifications and awards to the bottom of your resume, be sure to use the official title of the award. If you are an aspiring pianist, you should put the piano competitions and awards you won. If you are a software engineer, you can list awards from hackathons, and if you are an aspiring paramedic, you can put down certifications such as CPR and First-Aid Certification. Be sure to include the date earned and the organization which awarded the certification or award.
Here are three examples below for three different fields.
---
Software engineer:
NASA International Space Apps Challenge - Best Use of Data 2021 Winner
Certified Secure Software Lifecycle Professional, (ISC)² - 2022
---
Journalist:
Barlett and Steele Awards, Bronze, 2021
 "The Shortage of Low Hanging Fruit" for The Associated Press.
Top 100 Journalists Under 30, 2021
 Arthur L. Carter Journalism Institute, NYU
---
Scriptwriter:
Where the Ice Blows (7 minutes, 2020; writer)
Second Place in Experimental (The Valley Film Festival)
The Green of the Mountain (21 minutes, 2019; director, writer)
Honorable Mention for Narrative Short (LA Student Film Festival)
Best 16mm (Flicker Film Festival)
---
The dos and don'ts
Do
Try to keep the resume within one or two pages
Save your resume as a PDF so all formatting is preserved
Name the PDF of your resume in an intuitive way with no spaces; the same applies for cover letters and portfolios you send
Adjust your resume for the position you are applying for
Don't
Do not include your picture (US-based)
Do not include personal information, hobbies, or interests
Do not include referrals or reasons for leaving previous jobs
Do not lie on your resume or distort the truth (exaggerating, etc.)
Avoid clichés: "hardworking," "organized," "flexible," "enthusiastic"
Do not state the salary you would like in your resume
Needless to say, be honest. Some companies do a background or fact check on resumes, so do not lie on any of your documents.
Be sure to proofread your resume multiple times after you write it. Having a friend or acquaintance read over it also helps tremendously because another set of eyes can catch mistakes that you missed. You can also use online proofreaders like Engram which uses AI to catch grammatical mistakes and unnatural phrasing.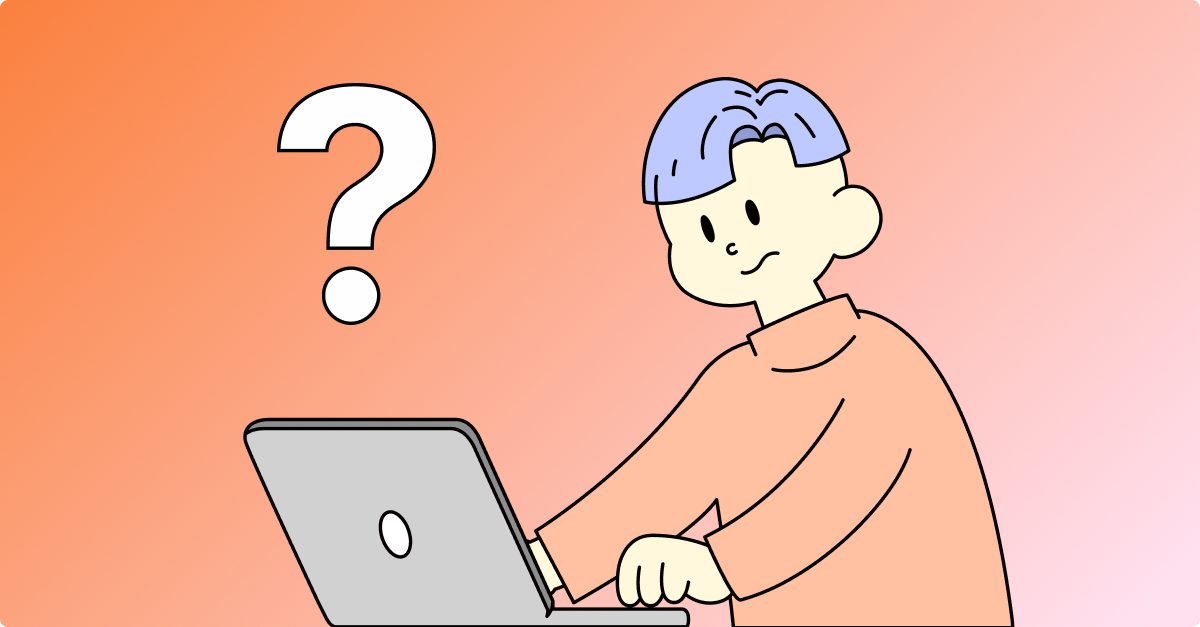 The following are two examples of full resumes.
When writing your job application email by which you send in your resume, don't forget to:
Use a professional email with a credible domain
Include your name and the position you are applying for in the email subject line
Address someone in your salutation (hiring manager's name, etc.)
Have a complimentary closing (Sincerely, Kind regards, etc.)
Have an electronic signature
Check this blog post to see detailed explanations on the above points.
---
Reference: